Taras Kozak: "I'm a financier and the stock market is my lifework"
Photo: facebook.com
Prominent stock market participant speaks about current state of securities market and his market career.
President of Investment Group "UNIVER", Minister of Finance in First professional Ukrainian Government, Head of Budget Committee in Public Council to the Ministry of Finance and coordinator in Public platform "Nova Krayina", it is a short list of regalia and posts holding by Mr. Kozak. Former graduate from Moscow State University by the name of Mikhail Lomonosov was born in Drogobych, Ternopil region, and spent the most part of his conscious life in Moscow. Investment company "UNIVER", which he established together with his course mates in Moscow more than 20 years ago, is in the TOP 20 of the biggest investment companies in Russia. And it doesn't matter where he lived, he always felt himself Ukrainian. Galicia is the place where his forefathers, Cossacks, had settled after the crackdown on Zaporozhian Sich and the place of his birth.
Taras Kozak sold his share in Russian investment company "UNIVER" in 2010. Earlier, in 2005, he founded Ukrainian investment group (IG) with the same name. The President of IG "UNIVER" wasn't public person when the author of the article got acquainted with him in 2010. Then we even had a problem with his photo for one of the Ukrainian editions as he just had no photo which met relevant requirements, and he had to make it as soon as possible. And now, his Facebook page is followed by 8 thousand persons. Taras Kozak told StockWorld.com.ua why the financier, who has devoted his life to the stock market, became a public person.
StockWorld: Taras, at the end of February, you have graduated from National Academy for Public Administration under the President of Ukraine with honors and received your forth higher educadion. What makes successful businessman to "grind away at his studies"?
Taras Kozak established Ukrainian investment group "UNIVER" in 2005.
Taras Kozak: To study is the creed. The world is developing too fast and if you don't study you will fall behind. Modern person has to study through the Inthernet, read books and select necessary information in its huge flow. The first degree in Mathematics I received in Moscow State University. It was very hard to study there. The scolarship in all the Institutions of Higher Education of the USSR was 40 rubles and in that University - 70 rubles. I got high grades and it gave me additional 50%, so, I totally received 105 rubles. My second degree is in computer science, the third one in finances (banking). But I felt I needed also degree in law which would met international standards. As for now I've passed "public adminstratіon" (public administration and state finances management). Also, five evenings a week, I visit lectures in Cіvil and political School (CAPS) in Kyiv, where the lecturers are from Georgia, USA and UK.
SW: You are one of the driving forces of the group creation under NSSMC to coordinate financial literacy activities of the state in Ukraine. What is changing in this direction?
TK: There were some attemts to increase public financial literacy in Ukraine, and all those approaces failed. There were no funds for it. Some researches have demostrated that 30%-40% of Ukrainians are finance literate, but in practice they understand bank or credit union deposits and credits. However, the world of finances is more wide. The knowledge of Ukrainians are mostly zero because of two reasons. The first one is no interest of the state, oligarchs and nomenklatura in fair prices for assets under privatization. Ukrainian oligarchs bought enterprises for a song during privatization due to undeveloped stock market. And Ukrainians do not understand securities, financial system, opportunities to make money from capitalization of enterprises... For example, Bill Gates earned his $80 billion on Microsoft shares prices which he owned and not from taking the profit out of the company.
To study is my creed!

Taras Kozak
President, IG "UNIVER"
The second reason is the citizens hardly use their investment opportunities as there is a very small number of such opportunities. In fact, the Ukrainian knows two types of accumulation to make money: real estate and deposit. At that, people all over the world are used to boost their profits through shares, bonds, private pension and investment funds, and insurance companies. Long term savings are absent in Ukraine. One of the reasons is absence of the second (savings) pillar of pension system, which could increase demand for financial knowledge. Most of Ukrainians have no possibility to invest in foreign stock markets. And foreign currency, which people prefer for their investments, shows depreciation caused by currencies inflation which is not as evident as inflation of hryvnia, but it's also strong. For example, today, the flat in Kyiv costs $50 - 70 thousand (note, that it is after crisis price), and it sprice was $ 5 thousand 25 years ago. Currently, Complex Program for Financial Sector Development untill 2020 which unites all financial regulators and institutions comprises another attempt to implement a system for provision of financial knowledge to general public in Ukraine. The leading role was undertaken by the team of NBU.
SW: Do you regret about changes in the "place" of your business registration as the Russian stock market provides its participants with more opportunities than domestic one?
TK: I am Ukrainian and I like to live in homeland. But I do worry about the corruption which penetrated not only domestic securities market but also the whole financial system. Even now, Russian stock market is incomparably stronger than Ukrianian market despite of sanctions, and we have a limited number of financial instruments which is used by limited number of persons. Russian market has already providing possibilities to raise funds for company development in 2000s. The state treated the investors in absolutely another way than it was in Ukraine. And minority shareholders in our country always was deemed as losers. Even if such a minority shareholder was the state owning 25% of shares, it still had no rights against the majority shareholder controlling the company. It kills the desire of minority shareholders to buy shares as an instruments to accrue funds. Although the legislation on stock market is drastically changing it's clear the state still can't protect its minority investor. Only prison, huge fees and punishment against abusers and officers misused their office could change this situation.
SW: UX index fell down by almost 24% for the last year. The market is more dead than alive. Where do Ukrainian investment companies get their earnings from?
Long term savings are absent in Ukraine.
TK: The situation on stock market is very difficult. It's because the investors react to expectations and not to the facts. I give you an example, at the end of teh Revolution of Dignity in Ukraine and there were no new Parliament and the President, it was the time when stock market substantially grown up. We expected our fast growing up and rising of prices to financial assets after the escape of Yanukovych's bantid power. Unfortunatelly, our expectations were dashed. Mentality and range of interests of our current leaders are little different from those of Yanukovych, and the stock market is falling into an abyss. If the state and judisial system can't protect a shareholder or owner of a bond, assets are depreciated.
The war and lack of investments resulted in the smaller number of investment companies. And the remaining companies will have less business. In fact, the only adequate instrument of internal market is internal government debt bonds (in local and foreign currencies). But even they are not full-featured securities. Ministry of Finance issued them under the lowest return rate, made state banks to purchase them and then "leak" it to the National bank with the same low return rate. The situation became improving since the beginning of 2016 and these securtities return is about 20% per annum.
If the state and judisial system can't protect a shareholder or owner of a bond, assets are depreciated.
With regards to more complex instruments such as futures and derivatives, we can also observe a stagnation as their underlying assets are not full and little related to the market. Derivatives can't be more stronger or reliable than its underlying securities.
As for the moment, earnings of investment companies are coming from asset mangement, consulting, mergers and acquisitions. As for today, IG "UNNIVER" is more engaged in the development of legislation than in business. In particular, it voluntarily assists the state in amending the law.
SW: When did you understand you can't continue working without being public more?
TK: One works for his own needs up to 20 years old, up to 40 - for his family, and after 40 – for his state, country. I am a financier and the stock market is my lifework. But doing only my own business I can't raise it up. The market needs changes and special role of the state in the process, namely, being the tool to influence laws and regulations. It requires other attributes like the name, reputation and publicity. In 2012, I ran for teh Verkhovna Rada of Ukraine and got good enough results as for teh person who lived here only in childhood. I got 10.5 thousand of votes, and in 2014 – 15.5 thousand of votes (I was the fourth and later the second majority constituency). I was a candidate in the province on the south of Ternopil region where people did not understand financial markets. I got my message across to them without giving bribes. They understood that the state needed reforms and I did it during Yanukovych regime. The fact that I was heard testifies that people want changes.
SW: You are very active in preparation of amendments to tax legislation. I even thought you "betrayed" the stock market...
As for the moment, earnings of investment companies are coming from asset mangement, consulting, mergers and acquisitions.
TK: To tell you the truth, it's my assistance to the stock market. Securities market is financial instruments which are primarily issued by the state and big private companies. If the state or companies don't play fair games, so their shares and bonds lose, as nobody wants to invest in instruments issued by unfair entities. Business development requires clear rules and if someone violates them he shall be brought to responsibility. These rules include some elements and one of them is taxation. There will be no confidence to local legal entities and their instruments untill any tax officer can freely come to the company, seize its server and "kill" it without any reasonable charge.
We need to do two things in this direction. The first one is to set clear rules for calculation of taxes which allow to work in an open way and show all incomes. The second thing is clear and sound tax administartion, in particular, necessity to set rules covering behaviour and powers of tax officers. Tax officer should have no right to terrorise or stop the company in pursuit of bribe receipt. The state shall treat the business as its partner and not a bandit. Tax officers still consider businessmen as bandits which should be pressed and exposed to "show in masks" on place. Terrorised tax payer will be happy to give the bribe to avoid this horror or even criminal proceedings.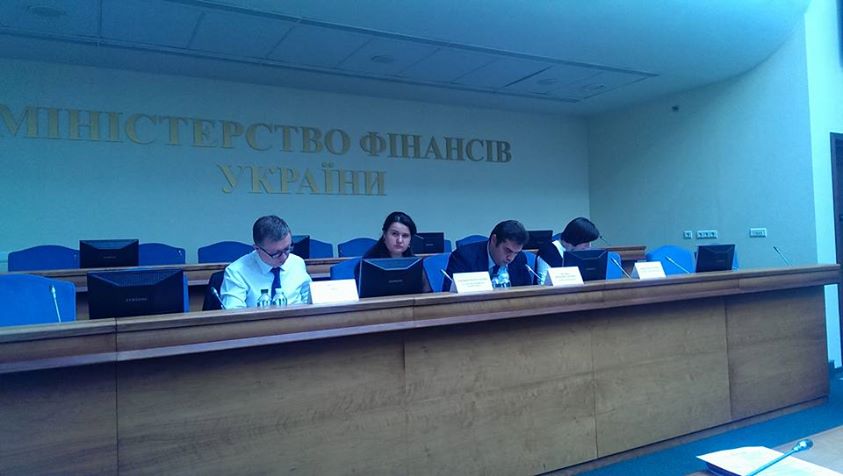 Recently, I have visited a conference on taxation system in Ukraine which was held in London. I was there together with our parliamentary delegation. There we had an opportunity meet prominent economist, recognized tax expert Arthur Laffer, who is also known as co-author of Reaganomics, one of the most successful period of American economy. Laffer said very simple but very important words: "The state should love and secure tax payers as these persons pay their own money to it (the state)".
Nothing has changed since the new leaders came. And the last two years showed that it doesn't matter who is the head of the Ministry of Finance because the repressions still work against the taxmen, "Azarov's regime" (azarovshina) is boosting: amounts of taxes to pay depend on a desire of tax officer or plans of local tax administration and not on company's earnings. Establishment of fair and transparent tax system will allow to increase interest of investors to Ukrainian enterprises.
The second part of the interview with Mr. Kozak you may read soon. He will tell us about his character development, being the head in Maidan Self-Defense Hundred's Headquarter and his chearished dream.
If you see an error on our site, select it and press Ctrl+Enter

Details