"Ukrnafta" black gold and blue chip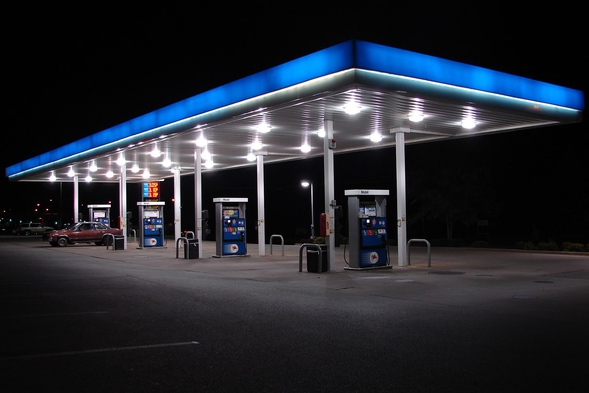 Photo: vistanews.ru
The history of the largest as well as one of the most scandalous oil and gas producers "Ukrnafta"
... News about "Ukrnafta" do not cease to vanish - now and then new conflicts over dividents' non-distribution to minority shareholders, losses appear, in spite of company's scale and a certain kind of monopoly. Today Editorial of StockWorld shares facts of the issuer's history with you.
All in all, "Ukrnafta" ownes about 3,000 oil and gas wells.
Main facts and figures
PJSC "Ukrnafta" is the leading gas and oil company in Ukraine, it is engaged in gas and oil extraction as well as drilling fields. In addition, "Ukrnafta" has its own retail network of petrol stations (at the end of 2014 - 537 petrol stations were in almost all regions of the country), through which it handle the fule sale. In addition, at gas stations "Ukrnafta" there are 5 car washes, 49 points for replacing the engine oil, small shops selling automotive products, 10 restaurants and the same number of stores with goods needed on the road.
"Ukrnafta" is developing 98 deposits of hydrocarbons, geographically located in two oil and gas regions, covering Dnepropetrovsk, Sumy, Lviv, Chernivtsi, Poltava, Chernihiv and Kharkiv regions. In total, the company has 2.783 oil and gas wells.
The company produces 91% of the available oil in Ukraine, 17% of natural gas and 27% of gas condensate.
As part of the company, there are about thirty services and production niches, six oil and gas producing departments, six enterprises specializing in drilling, three gas processing plants, etc.
"Ukrnafta" was established on March 31, 1994.
The history voices the following
The company was established on March 31, 1994 due to the corporatisation of the production association of same name, which, of course, operated during Soviet period. This period has been very productive for the company - for example, 14.5 tons of oil was produced in 1972, which is the highest in the history of Ukraine.
By the way, PJSC "Ukrnafta" was the first among domestic enterprises, which was able to enter the international stock market. "Ukrnafta" achieved this thanks to the implementation of American Depositary Receipts of the first level Programm in 1999.
"Ukrnafta" today
The company has two international offices. About 30 thousand of people work for it.
Enterprise is no stranger to the world of sport - it is the owner of football club "Neftyanyk-Ukrnafta".
Shares, shareholders and bids
"Ukrnafta" is 50% state-owned company via NAK "Naftogaz Ukraine", nearly 40% of the capital is under control of enterprises that are associated with the financial and industrial group "Privat".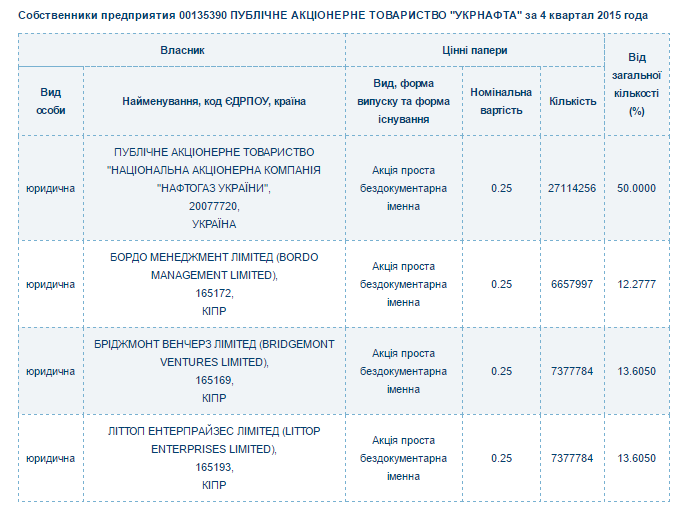 Authorized fund of "Ukrnafta" is more than 13.5 million USD. The cost of one ordinary share is 0.25 UAH.
Companies' securities with ticker UNAF altogether with shares of six other issuers form the index basket of "Ukrainian Stock Exchange".
More information about the issuer, its owners and their changes, financial results and others you may see in "Company Profiles" on StockWorld.com.ua.
An interesting fact about debt ...
As part of debt collections by tax liabilities, October 22, 2015 the State Fiscal Service of Ukraine described property of "Ukrnafta", including wells, marketable products, gas processing plants and real estate companies in the amount of 9.278 billion UAH.
If you see an error on our site, select it and press Ctrl+Enter
You may also be interested in:

Details