"Kryukivskyi Railway Car Building Works": here we go!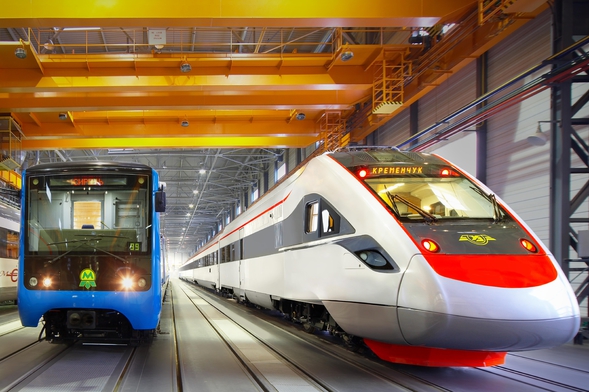 vagonnik.net
The history of "blue-chip" - the only Ukrainian producer of passenger railway cars.
KRCBW: who is it
PJSC "Kryukivskyi Railway Car Building Works" is the largest domestic engineering company. The plant is located in Kremenchug and except for the industrial merits, it is also known for its strategic importance for economy and security of Ukraine.
For the first time, Kryukov Railway Car Building Works was mentioned in 1869.
For the first time, Kryukov Railway Car Building Works was mentioned in 1869. Back then, workers dealed with freight cars' maintenance in small car repair shops of Kharkiv-Mykolaiv railway. When new campuses were established in 1990, car repair shops started to deal with maintenance of passenger coaches. During the years of the Great Patriotic War the plant was evacuated to Perm, where manufacture of the defensive production (demolition air bombs) was arranged in a short time. On return from the evacuation, in 1954, design bureau was established. It dealed with engineering assault-crossing equipment in the USSR.
Main feature is versatility.
In the days of Ukrainian independence in 2002, a year after production of the first passenger coach, the Kryukivskyi Railway Car Building Works turned into highly technological, wide-range basic enterprise of railway car production of the country. The main working program of the plant is to develop and manufacture main passenger and freight cars of different types, trucks, spare parts, wheelsets, railway wheels, underground cars, road construction machinery, escalators, etc.
Today KRCBW is a diversified company that can generate any engineering idea and turn it into reality.

During recent years, the plant has produced more than 15 new models of specialized and freight cars for various purposes, which operate in different countries of the world.
Enough shares for everybody
Austrian company "OW Capital Management GmbH" ownes 25% of the Kryukivskyi Railway Car Building Works, the same number belongs to AS Skinest Finants company (Estonia). According to the KRCBW's data, another 25% is owned by another Estonian legal entity Osauhing DELANTINA, 19.17% of securities belong to Transbuilding Service Limited.
History of ownership changes in detail and other information about the company you may find in "company's profile" on StockWorld.com.ua.
Nowadays

Huge industrial capacity gives the plant ability to produce and provide high-quality, easy-to-use products. The high rate of production, volume of productive capacity, well-established marketing policy allow the plant not only to stick its current posstion and keep up, but also to invest its profit in the development and modernization of the enterprise, to expand, creating new jobs and strengthen on the global engineering market.
In March 2015, "Kryukivskyi Railway Car Building Plant" received contract on maintenance of 50 cars for the Kyiv Metro. It is known that this contract totally amounted to 1.02 billion UAH. And in August 2015, the plant received a contract for 2.5 million UAH on maintenance of 40 units of Ukrainian army's military equipment .
Not by cars alone
Until March 2016, shares of KRCBW formed the index basket of "Ukrainian Exchange". Currently securities of the company are "blue chips" of PFTS Stock Exchange. For example, according to the site, the volume of share trading amounted to 515 UAH. Totally 100 transactions were recorded. Stock ticket of the plant is KVBZ.
If you see an error on our site, select it and press Ctrl+Enter
You may also be interested in:

Details