Chief Metallurgist of Ukraine, or a history of "Azovstal"
Photo from: companion.ua
Not a "blue chip" anymore, but is still the leader of Ukrainian metallurgy.
Despite the fact that yesterday, "Ukrainian Exchange" has brought shares of Metallurgical Combine "Azovstal" out of the listing with the securities of other 12 issuers, this will not prevent us to talk about this industrial giant, which is not only a prominent figure in the steel market, but it has played this role on the securities market for a long time.
How steel was tempered
"Metallurgical Combine" Azovstal " is a company with full metallurgical cycle (from sinter and coke production, to steelmaking and flushing of bar shaped, shaped profiles and flat-rolled products of highest quality) - was established in 1930. Of course, the years of its active work occurred in the Soviet era, and with the acquisition of Ukraine's independence, "Azovstal" went on the privatization path. In 1996, the plant became a public joint stock company, in 2005 the company merged with the coke plant "Markokhim" from Mariupol.
Since July 2006, "Azovstal" is a part of the Metallurgical Division of Metinvest Group, which is engaged in the implementation of strategic management of the Group's mining and metals business "System Capital Management". It is also included in the ten largest metallurgical enterprises of the CIS and the three largest in Ukraine.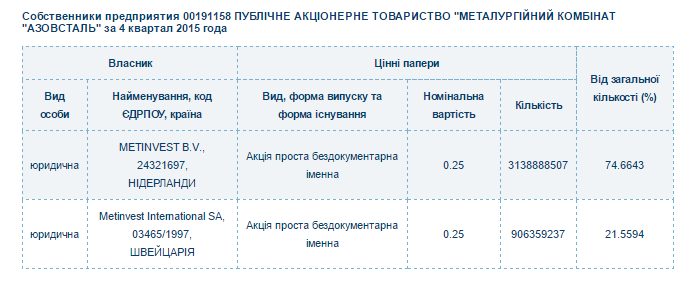 "Azovstal" is the only plant in Ukraine, which produces heavy plates for energy and special mechanical engineering, shipbuilding, bridge construction, deep-sea structures, manufacturing of large diameter pipes for oil and gas pipelines in northern execution (before the direct use undergoes ultrasonic testing).
Certificates and regalia
Most of the plant products have been certified by leading international certification and classification societies as German Lloyd, Lloyds Register of Shipping, American Bureau of Shipping, Det Norske Veritas, American Petroleum Institute, TUV Rheinland, Maritime of Shipping (Russia), Bureau Veritas (France ), that issued 35 certificates for steel products the "Azovstal".
By the way, in 2000, "Azovstal" has received a separate award - "Crystal Tower" - for the investment policy.
Present days
As of today, the company's authorized fund is more than 1 billion USD, CEO of "Azovstal" - Enver Tskitishvili.
To get almost all information about the "Azovstal" as an issuer in the section company's profile on StockWorld.com.ua: here you can find enterprises's reporting, exchange rates (though it is almost not relevant), data about the owners, changes in ownership and much more. All news about the company is available by the tag "Azovstal" .
If you see an error on our site, select it and press Ctrl+Enter
You may also be interested in:

Details