Big leap of small Singapore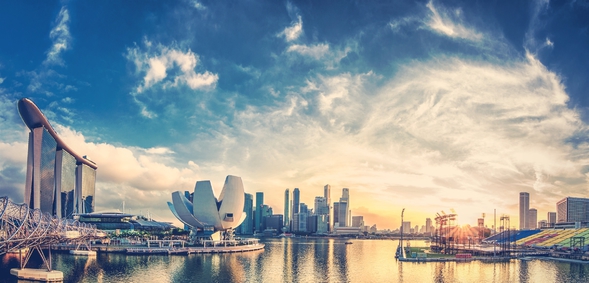 confideri.com
About Singapore, its economic miracle and stock market.
... On August 9, 2015 Singapore had reached 50 years old. The first Prime Minister of the Republic Lee Kuan Yew, due to which in just 30 years, the country has carried out a jump from a poor third world country into a prosperous state, died six months earlier this day.
Today, Singapore is a country with a developed market economy, loyal tax policy and the complete absence of corruption. By level of GDP per capita, it ranks third position after Qatar and Luxembourg.
At first, let's attract investors
The Prime Minister (1959-1990), Senior Minister (1990-2004), and finally, in 2004, Minister Mentor Lee Kuan Yew of Singapore, during the years of his rule helped the country which was lacked even such basic resources as water and building sand, which it was forced to import from Malaysia to become a fully independent and highly-developed state. The main strategy of Lee Kuan Yew, was to transform Singapore's economy to the commercial and financial center of South-East Asia. It was also the policy of attracting investors. "We welcomed every investor ... We just climbed out of the skin, to help them to start production", - loved to say Lee Kuan Yew.
All dictators have their own whims

Lee Kuan Yew has made a number of stringent laws, some of which may seem strange, but, nevertheless, they have made their considerable contribution to the prosperity of the country process. "We decide what is right, and what is not. We do not care what people think about this,"- this is one of the catch phrase of Lee Kuan Yew, that became the slogan of the authorities in the country for some time. The ruler of Singapore has banned gambling and raised the price of alcoholic beverages, so since that time in the country alcohol is sold at cosmic prices and only in special stores.
Lee Kuan Yew: "... as a part of my strategy was to create an oasis of the "first world" in the "third world.""
Besides this, Singapore prohibited the import of gum, which promises urban pollution, and also there you will not be able to leave the water in the saucers under flowerpots, because it attracts mosquitoes. If you want to buy a car, you need earn money not only on the transport, but also on the auction where you have to require the purchase permit for this purchase. This policy works to reduce urban air pollution by exhaust gases.
In addition, Lee Kuan Yew read the whole speeches about you need to marry only women with a higher education: "... Rejects smart ladies, preferring foolish youngsters, that is why gene pool is suffering!..".
Lacking the elementary things, to become better than the rests

After the influx of money received from investors, Lee Kuan Yew began to root out corruption and crime: "Singapore cannot boast of any natural resources. But high level of life's safety and revenue transparency will become his wealth."

Fighting for an idea to remove any hint of corruption in their country, Lee Kuan Yew does not loiter with the decision, when his close friend was accused of bribery. Put him in jail, he proved his integrity and coolly in this matter.
Lee Kuan Yew: "If they were not afraid of me - I am meaningless."
Such rigidity has increased the flow of investment into the country. Lee Kuan Yew answer the question of why foreign investment come in country in such a way: "They're coming here because we gave them protection, stability and predictability of conditions. If the sense of security and predictability is fading, the money will not come and will only leak out."
A great disadvantage, which immediately catches by eyes during the study Singapore's policy, is the complete lack of freedom of speech. Every journalist (including foreign one), publication or writer who will take the courage to criticize the actions of politicians and their solutions, any reforms will be arrested or closed down.
The Exchange is also in a case

Development and strengthening of Singapore is also directly connected with the establishment of the Singapore Exchange (Singapore Exchange, SGX) - one of the largest stock exchanges of Southeast Asia. There are listed shares of Oversea-Chinese Banking Corp. - one of the most reliable banks in the world and Singapore Airlines - airline companies, which is considered one of the best.
Singapore Exchange has become a "bridge" that connects investors and large corporations of Asia, which entering the market in search of capital. SGX is an international center with a large share of issuers of foreign companies. It offers customers a great exchange platform, which is representing the Asian stock market, that focuses on the region's three largest economies - Japan, China, India.
The average daily trading volume on the Singapore Exchange is about $2 billion.
The average daily trading volume on the Singapore Exchange is about $2 billion. According to rumors, on the stock exchange of Singapore will be list the shares of "Formula 1".
Singapore's policy has its drawbacks, as the policy of any other country, but respecting the incredible indisputable achievements in such a short period, we will not get hung up on the minuses, and we'd rather finish material by one of the most defining statements of the Lee Kuan Yew: "The main thing - do not be afraid of innovations!".
If you see an error on our site, select it and press Ctrl+Enter
You may also be interested in:

Details