Venezuela raised USD 735 million by offering its cryptocurrency over one day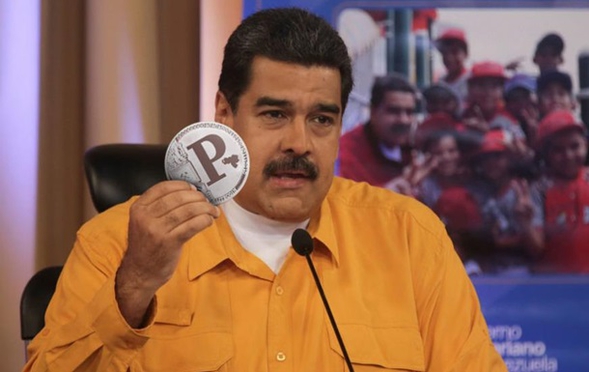 Venezuela attracted USD 735 million via selling its own cryptocurrency El Petro over ove day.
Venezuela received USD 735 million in the first day of a pre-sale of the country's El Petro cryptocurrency, which is backed by oil, gas, gold and diamonds.
"Only over the first day El Petro raised USD 735 million. Today, a cryptocurrency is being born that can take on Superman," said President Nicolas Maduro refering to US dollar.
Investors have opportunity to buy petro till March 19. 38.4 million tokens are to be sold at the first stage. On March 20, another 44 million petro ICO will be launched, according to local mass media. At that, 17.6 million tokens announced for placement of 100 million will be reserved by the state, according to Interfax.
Venezuela became the first country in the world that issued its own cryptocurrency with the purpose to avoid financial sanctions imposed by the USA and EU against the country.
According to the local mass media, President Nicolas Maduro relies on intersest of investors from Qatar, Turkey and other Middle East countries. He plans that petro could be used for real currency receipt to pay for services provision.
The President said 100 million tokens to the amount of USD 6 billion will be issued despite its proclamation as unlawful by the parliament of Venezuela that is controlled by the opposition. The law provides the Parliament shall approve any government loans.
Petro price is pegged to the price of one barrel of Venezuelan oil, i.e. USD 60 but will be adjusted to market fluctuations.
El Petro is backed by the real asset - 5 billion barrels of oil at the Ayacucho field in the Orinoco oil belt - as contrasted with the most other cryptocurrencies. Venezuelan authorities believe the own cryptocurrency will allow them to attract funds from abroad successfully.
Venezuela has been facing economic distress, shortages in food and other basic necessities, energy and hyperinflation. Lack of foreign currency leaded to sharp import decrease including food import. USA levied financial sanctions against the country for persecution of opposition.
The largest rating agencies downgraded Venezuela to Default Level after the country failed to redeem a part of government debt.
If you see an error on our site, select it and press Ctrl+Enter

Details