Everything You Need To Know About Digital Banking and Digital Currencies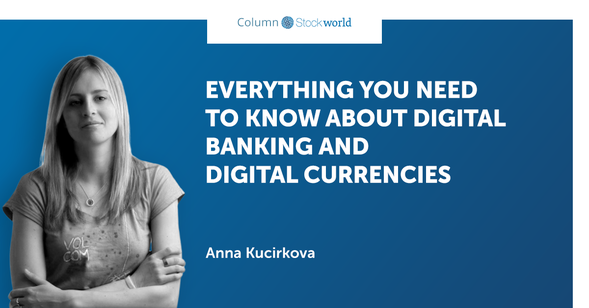 Digital banking and digital currencies are revolutionizing the way we handle our money. Here's what you need to know.
The world is changing as new technologies change the way that we live our lives. We now have technologies that are reminiscent of the 1950's vision of the future. We have cars that can drive themselves, virtual reality, and high-functioning robots.
As industries change to meet the changing demands of their clients, such as Uber's response to taxis, and Air BnB's response to traditional hotel rooms, so the financial world has been innovating and changing.
The world is increasingly becoming more and more digital, and the banking and financial community is evolving to meet their client's new demands.
What is Digital Banking?
Digital banking is at the center of today's customer experience. Digital banking allows people to deposit, withdraw, and pay bills all digitally without having to physically walk into a bank. Individuals can view their history of banking transactions, receive direct deposit, and manage their savings and checking accounts all digitally either by a desktop computer, tablet, or cell phone. They can also scan checks directly into their accounts using a phone app.
In addition to the above-mentioned items, digital banking may also one day include digital currencies which will be discussed at greater length below.
Advantages In Digital Banking
There are many advantages to digital banking. Many people are happy to use the convenient services available through online banking. In addition to mobility, it's also helpful because people are not restricted by office hours. They can make deposits and check in on their finances all in their own time.
Other benefits of digital banking:
Higher Interest Rates & Lower Loan Costs. Online only banks are capable of providing higher interest rates on their savings accounts because their overhead costs are lower. They're also able to offer lower interest rate loans.
Cashback and other Rewards. Also due to lower overhead, sometimes online banks offer their customers cashback and other rewards.
Disadvantages of Digital Banking
While there are many benefits to digital banking, there are a few drawbacks as well.
No face-to-face contact and no physical locations. Online banking does lack the personal experience of face-to-face contact. It can be frustrating when dealing with an issue to have all conversations online or through phone calls. Likewise, it may be less than convenient to not have an actual banking location, should a person require cash or coins that are not available at an ATM machine.
May not have the services you require. Although the digital banking community is growing and providing more and more services, they may still be limited compared to a bank with a physical location.
Security issues. Online banking has come a long way with security, but there is still a chance of hacking and the risk of identity theft.
Cryptocurrencies
In 2009, Bitcoin rocked the world with their new digital cryptocurrency. Since then, there have been many other groups who have created their own types of cryptocurrencies. Cryptocurrencies are popular for a number of reasons including security and independent sourcing.
Cryptocurrency Security
One of the most alluring things about cryptocurrency is the high-level of online security it offers. While it is not completely hack or thief proof, it is one of the most secure ways of protecting online funds. It uses something called "blockchain" technology that stores information on transactions. This stored information helps keep track of each transaction that was used with the cryptocurrency and creates a unique "block" of information for each one. The block of information identifies when the transaction took place, and who was involved, and how much was spent.
Cryptocurrency is very difficult to counterfeit. Jake Frankenfield of Investopedia writes, "'Crypto' refers to the fact that various encryption algorithms and cryptographic techniques, such as elliptical curve encryption, public-private key pairs, and hashing functions, are employed."
Independent Sourcing
Many people are drawn to cryptocurrency because it is not necessarily backed by a third party such as a bank or credit card company. It's also theoretically separate from a specific system of government.
Another draw is that it offers a level of anonymity because there's no government or central authority that has access to a person's personal information. This is highly appealing to some cryptocurrency holders.
Digital Banks and Up-in-coming Digital Banks in the Fintech Community
The digital banking system is taking over, and many groups are jumping on board all over the world. These banking systems are intentionally setting themselves apart from traditional banking and attempting to provide services that are convenient, easy-to-use, and fair to their customers. Some examples are outlined below.
United Kingdom's Startup "Revolut" In 2015, a United Kingdom startup called Revolut came on the fintech scene. Their premium service known as "Revolut Metal" provides users with a card that allows them to use unlimited money exchanges among 24 fiat currencies and access to five cryptocurrencies including bitcoin cash, bitcoin core, ethereum, litecoin, and ripple.
The card allows their customers to get up to €600 (over $670) out of an ATM each month with no additional fees. Transactions give users up to .1 percent cash back on purchases in Europe, and 1 percent outside of Europe.
By 2018, Revolut surpassed three million customers and has raised $250 million Series C Investment. This was all despite criticism at their launch. Bankers and investors predicted that their startup would not be successful. Revolut posted on Twitter, "'Three years ago, banks and investors laughed at us. Today, we have signed up three million customers and no one is laughing now. Thank you!'"
Germany's startup "Penta" In 2017, a German startup named Penta launched. They wanted to create a digital bank that specifically targeted SMEs and startups.
According to their website, the startup's founders had met in February of 2016, and were surprised to find out that they were all independently unhappy with their business bank. They were frustrated by slow, inefficient services, and less-than-quality online banking interfaces.
They felt that innovation was lacking in the banking industry and they wanted to create a bank that understood and could support the needs of small-to-medium businesses and startups. They wanted to make opening accounts simple, and for fees to be reasonable.
Their plan is to incorporate the best third-party fintechs and service providers within their business plan as opposed to creating their own financial products.
Since their 2017 launch, Penta has raised €7 million Series A funding.
Hong Kong's Digital Bank "Neat" Neat is another startup that focuses on startups and SMEs. The company gives their clients quick access to prepaid Mastercard-based cards as well as basic banking services.
Neat offers a consumer option, but their focus is more on businesses. Their premium services run around $7.50 a month depending on use. Neat offers global services, but their focus is on Asia. One example of how they help their clients is by giving them the ability to make international payments without accruing high fees.
Neat acquired two million investment dollars from Dymon Asia Ventures and Portag3 Ventures earlier in 2018, and an additional three million from China-based VC Linear Capital and Hong Kong's Sagamore investments.
Central Banks to Create Digital Currencies
Central banks around the world are discussing whether they should enter the digital currency market with predictions that they will shutout current cryptocurrencies. With the world functioning less and less on cash transactions, and with the success of companies like Bitcoin, it makes sense that centralized banks would want to focus on creating their own digital currency.
Central bank digital currencies (CBDCs) would likely run differently than blockchain cryptocurrencies. One of the criticisms of companies like Bitcoin is that the actual "value" of a Bitcoin is very difficult to determine as it can change daily. For example, in December of 2017, a single Bitcoin was worth twenty-thousand USD, but the following month it was worth less than eleven-thousand.
Another criticism of cryptocurrency is that it is not widely accepted at all places or by all people and that it has insufficient customer protection. Providers have had to work hard to stay ahead of hackers or thieves. This has also made some transactions less efficient, such as traders storing their cryptocurrency in offline wallets instead of online ones.
Central banks are reviewing the issues with current cryptocurrencies and attempting to come up with a new more efficient system that would compete and possibly push out cryptocurrencies. Some of these ideas include a bank being in charge of a decentralized payment system. Instead of Bitcoin's extreme swings in valuation, the new system would have a fixed exchange rate between digital currencies and fiat currencies.
Banks Considering Creating Digital Currency
There are a number of centralized banks that are in the planning process of creating a CBDC system.
Norges Bank
In May 2018, Norges Bank, Norway's central bank, announced plans to consider developing a digital currency of their own.
They considered three important areas that they believe the CBDC would: an alternative to private bank deposits, a legal tender as a supplement to cash, and a backup solution for electronic payments that are independent.
In a working paper, Norges writes, "Norges Bank will continue to issue cash as long as there is a demand for it. But when cash usage declines, CBDC can be an alternative to deposit money. The primary purpose of a CBDC is to ensure confidence in money and the monetary system."
Reserve Bank of India
India's Central Bank, Reserve Bank of India, is seriously considering creating a CBDC. They have created an inter-departmental group to analyze the possibility of making a rupee backed digital currency.
They announced their intentions in 2017 in their annual bank report. One of the main reasons they're interested in using a CBDC is to lower the cost of paper and metal currency creation. In their report, they said, "Globally, the rising costs of managing fiat paper/metallic money, have led central banks around the world to explore the option of introducing fiat digital currencies."
They also noted that they were interested because of changing trends in digital currencies such as private digital tokens.
The Future of Banking
It's not entirely clear whether the banking world at large will follow the lead of private cryptocurrencies, but one thing is clear: The financial world is changing and innovation and convenience is in high demand. Traditional banking and cash money may one day be obsolete in a world that is relying more heavily on smart technologies.
Repost. Original text is available here.
Author's view expressed in this publication may not reflect the views of edition. StockWorld is not responsible for information contained in the publication.
If you see an error on our site, select it and press Ctrl+Enter

Details